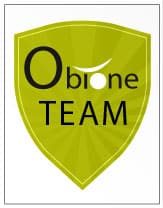 Obione : expert in nutrition | Who are we
Palmarès de l'équipe :
30 co-équipiers
Prix de la Stratégie 2012
Innov Space 2014
INEL d'Or 2015
Start-up de l'année 2017
Classement Croissance les Echos 2017
Classement Croissance les Echos 2018
Classement Croissance les Echos 2019
Sponsors officiels : BPI France – Région Bourgogne – BP2L  – Crédit Agricole – HSBC
Partenaires : Invest-PME & SIPAREX
Lauréats du concours Innovation Start Up 2019 organisé par le Groupe Casino
Specialist of animal welfare, Obione grew up in the Beaujolais vines from October 2008 to September 2015 and then moved to Mâcon city.
Obione is a company at the same time of Field and Research, a company of Training and Innovations.
Winner of the SME Challenge – Strategy in 2013, Obione received an InnoSpace in 2013 for Cow Notes and an INEL d'Or in 2015 for our Happy Farmers, Happy Cows and Happy Vétos approach.
Nominated in the Start-up category of the year in 2015 and appearing in the 47th place of the 2015 national ranking of the French Start-up Express, we were accompanied on various projects by Oséo and BPI-France.
With a team of several veterinarians and engineers, Obione's mission is to develop, discover and popularize scientific innovation, zootechnical tools and IT solutions to enable our customers, veterinarians and breeders to develop their skills to improve their performance.
Obione is a specialist in dietary solutions ( Complementary feedingstuffs, boluses, organic supplements, …) for farm animals, and more specifically cattle: calves, suckler cows, dairy cows, goats and kids. With us animal welfare and that of its breeder are paramount.
Our products, our Cow-Notes application, our tools and our services are now available in France but also in Belgium, Poland, Denmark, Germany, Turkey, Japan, Spain, Italy, Ireland, Botswana and in Algeria. We are still prospecting and other countries will join the list of our partners.
Do not hesitate to consult all our offers available on our website and to us contact , we are available to answer all your questions.
Born to run ! Lionel
[ Président ]
Lionel Reisdorffer 
Dr Vétérinaire (L91) Président
+33 (0)6 47 54 66 83 lr@obione.fr
I need Vitamins S.E.A. ! Patrick
[ Directeur Général ]
Patrick Besnier 
Dr Vétérinaire (L90)
Directeur Général
+33(0)6 47 54 67 46 pb@obione.fr
L'homme qui a vu l'homme qui a vu l'ours. Richard
[ Directeur Général ]
Richard Tavella
Directeur Général
+33 (0)6 47 54 82 04 rt@obione.fr
Peu importe ce qu'on pourra vous dire, les mots et les idées peuvent changer le monde ! Fériel
[ Vétérinaire & Responsable Pharma ]
Fériel Latrêche
Vétérinaire & Responsable Pharma
06 68 15 37 04 fl@obione.fr
Quand je serai grande… je serai grande ! Fabienne
[ Responsable Qualité ]
Fabienne Brondel
Responsable Qualité 
fb@obione.fr
Le principal ennemi de la créativité, c'est le bon sens ! Sylvaine
[ Responsable Marketing ]
Sylvaine Reisdorffer
Responsable Marketing
sr@obione.fr
Etre libre, ce n'est pas pouvoir faire ce que l'on veut, mais c'est vouloir ce que l'on peut ! Rémy
Remy Bouchacourd
Web-artist
rb@obione.fr
On n'est pas sérieux quand on a 17 ans. Perrine
[ Assistante Marketing ]
Perrine Bernet
Assistante Marketing
peb@obione.fr
Stairway to heaven. Martine
[ Comptable ]
Martine Gaulin 
Comptable
mg@obione.fr
Si la matière grise était plus rose, le monde aurait moins les idées noires ! Jean Christophe
[ Directeur Administratif
& Financier ]
Jean Christophe Bachaud
Directeur Administratif & Financier
jcb@obione.fr
Force et Courage. Camille
[ Assistante Commerciale ]
Camille Lautissier
Assistante Commerciale
03 73 72 04 50 cl@obione.fr
Don't worry, be happy. Léna
[ Ingénieure Agro
Formatrice Happy ]
Lena Joannès
Ingénieure Agro – Formatrice Happy
07 76 90 30 88 lj@obione.fr
La passion des bêtes… Philippe E.
[ Développeur ]
Philippe Emeriaud
Développeur
pe@obione.fr
La question n'est pas, qui va me laisser passer, mais qui va m'arrêter ! Nacira
[ Commerce International ]
Nacira Durand
Commerce International
+ 33 (0)6 65 70 13 05 nd@obione.fr
Rien n'est acquis. Jérôme
[ Responsable Logistique ]
Jérôme Millot 
Responsable Logistique
jm@obione.fr
Rien n'est plus stimulant que de se surprendre soi-même ! Caroline
[ Logisticienne ]
Caroline Thomas 
Logisticienne
ct@obione.fr
Ch'ti du 43. Philippe 
[ Délégué Vétérinaire
Gamme Rurale ]
Philippe Dubois
Délégué Vétérinaire
06 47 54 51 91 phd@obione.fr
Il tire plus vite que son Hombre ! Luc
[ Délégué Vétérinaire
Gamme Rurale ]
Luc Wilmotte
Délégué Vétérinaire
06 33 29 16 88 lw@obione.fr
.Frédéric
[ Délégué Vétérinaire
Gamme Rurale ]
Frédéric Descharmes
Délégué Vétérinaire
06 47 54 52 32 
fd@obione.fr
Regarde ton chien dans les yeux et tu ne pourras pas affirmer qu'il n'a pas d'âme ! Corentin
[ Délégué Vétérinaire
Gamme Rurale ]
Corentin Bergerot 
Délégué Vétérinaire
06 33 28 87 61 
cb@obione.fr
La seule personne à laquelle tu devrais te comparer pour être meilleure c'est celle que tu étais hier ! Aline
[ Déléguée Vétérinaire
Gamme Rurale ]
Aline Myrthe 
Déléguée Vétérinaire
06 86 94 62 81 alm@obione.fr
Charolais dans l'âme et le coeur ! Thomas M.
[ Nutritionniste 
Zootechnicien ]
Thomas Monier
Nutritionniste – Zootechnicien
06 15 50 46 29 tm@obione.fr
Quand tu es arrivé au sommet de la montagne, continue de grimper ! Thomas B.
[ Nutritionniste
Conseiller en élevage ]
Thomas Beauville
Nutritionniste – Conseiller en élevage
06 68 15 36 03 tb@obione.fr
L'agriculture est l'emploi le plus sain, le plus utile et le plus noble de l'homme ! Ludivine
[ Nutritionniste 
Conseillère en élevage ]
Ludivine Curat
Nutritionniste – Conseillère en élevage
06 68 15 33 03 lc@obione.fr
Grandir, c'est savoir garder ses racines tout en déployant ses ailes ! Isabelle
[ Nutritionniste 
Conseillère en élevage ]
Isabelle Merle 
Nutritionniste – Conseillère en élevage 
07 63 44 20 13 im@obione.fr
Assurer son animal c'est pas bête ! Clara
[ Nutritionniste 
Conseillère en élevage ]
Clara Fernandez 
Nutritionniste – Conseillère en élevage 
07 63 44 18 98 cf@obione.fr
L'agriculture, c'est vachement beau ! Léa
[ Nutritionniste 
Conseillère en élevage ]
Léa Brunet 
Nutritionniste – Conseillère en élevage
07 63 44 19 00 lb@obione.fr
Une ratatouille et ça repart ! Soiz'
[ Dr Vétérinaire 
Nutritionniste Animaux de compagnie ]
Françoise Miani-Nico
Dr Vétérinaire – Nutritionniste Animaux de compagnie
06 35 03 10 54 fm@obione.fr
Dans la vie rien n'est à craindre, tout est à comprendre ! Céline
[ Déléguée Vétérinaire 
Gamme canine ]
Céline Auburtin
Déléguée Vétérinaire – Gamme canine
06 35 06 57 51 ca@vetexpert-france.fr
L'aventure c'est d'abord l'ouverture aux autres ! Xavier
[ Délégué Vétérinaire 
Gamme canine ]
Xavier Delahaiye
Délégué Vétérinaire – Gamme canine
07 76 80 55 29 xd@obione.fr